/ BRESIC WHITNEY HUNTERS HILL 2014
Commercial office fitout

The Hunters Hill office continues our exploration with Bresic Whitney of the open plan collaborative office environment. Their office was required to accommodate 15-20 staff and display the agencies significant collection of contemporary art within a small floor space of 180m2.

The office is envisioned as a baroque village or townscape set within its tenancy envelope. Independent meeting rooms, workstations and a bathroom core are considered as elemental figures dropped into a container; figures that twist in scale and orientation to create contracting or expanding spaces and guide circulation paths. Within the existing raw shell, a pristine tray of timber has been inserted that seamlessly folds from floor to wall to folded pelmet, stopping shy of the exposed tenancy ceiling; creating a beautiful periphery that nothing touches. Workstations are suspended from the ceiling upon thin black skeletal frames - appearing to "float" above the ground plane. Horizontality is prioritised in the banding of lighting and used as a graphical device to elongate the sense of space in a small interior.

The design is not about features, but rather a crafted and delicate composition of elements: the result of applying a macro-scale strategy to the micro-scale.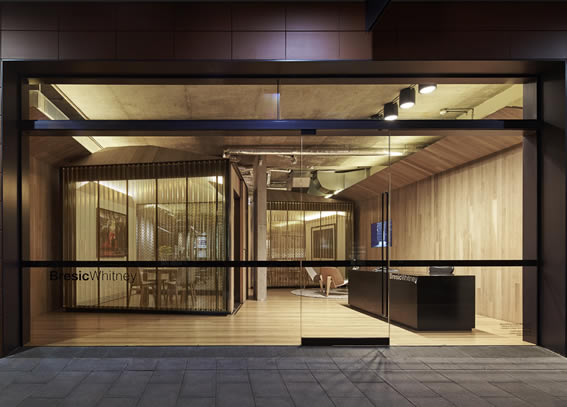 Photographer: Peter Bennetts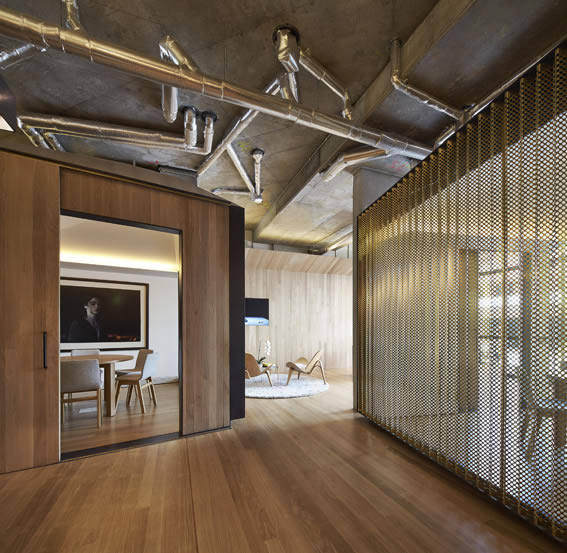 Photographer: Peter Bennetts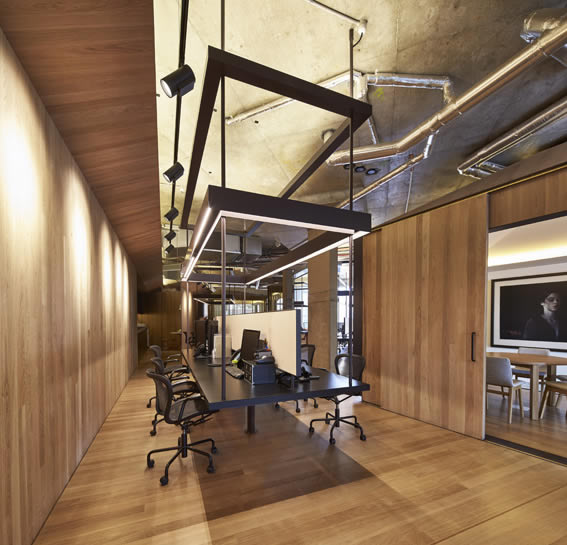 Photographer: Peter Bennetts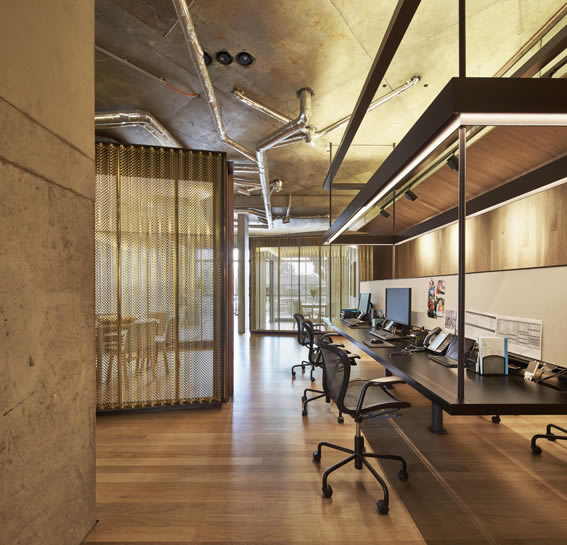 Photographer: Peter Bennetts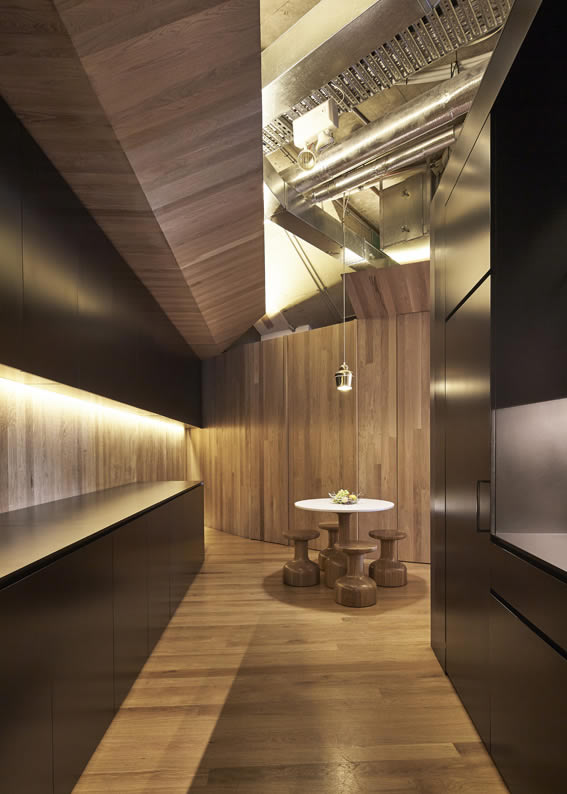 Photographer: Peter Bennetts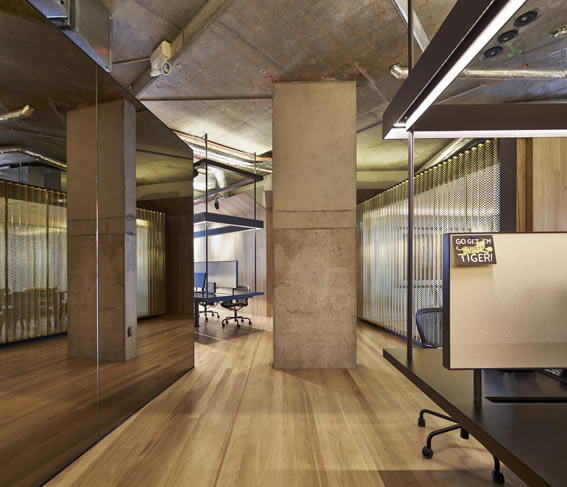 Photographer: Peter Bennetts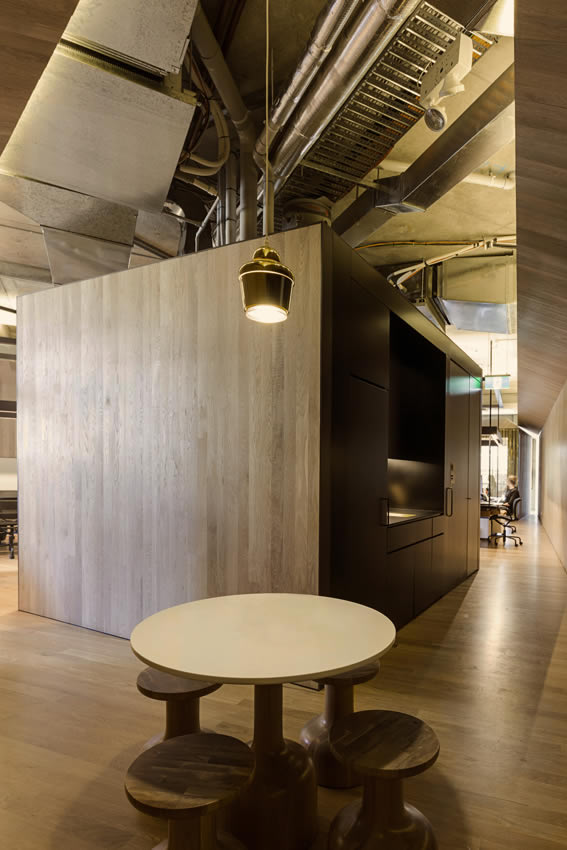 Photographers: Aimee Crouch & Karina Illovska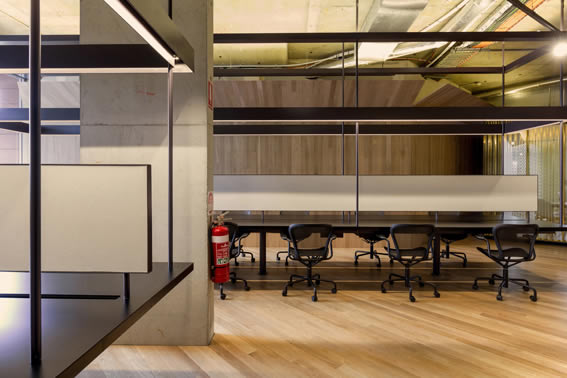 Photographers: Aimee Crouch & Karina Illovska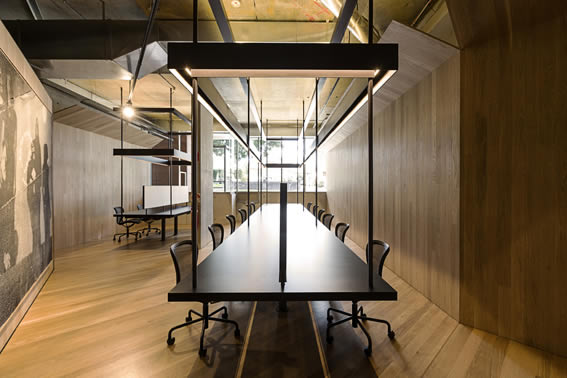 Photographers: Aimee Crouch & Karina Illovska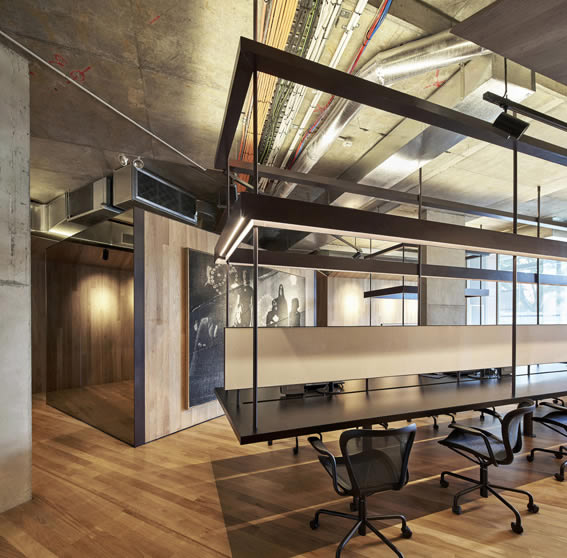 Photographer: Peter Bennetts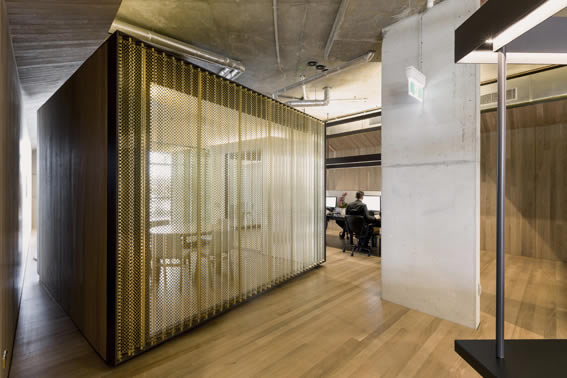 Photographers: Aimee Crouch & Karina Illovska
DATE:
Completed 2014
PHOTOGRAPHERS:
Peter Bennetts & Aimee Crouch & Karina Illovska
PROJECT MANAGER/BUILDER:
Sherington Project Management
STRUCTURAL ENGINEER:
Simpson Design Associates
JOINER:
CM Joinery
MECHANICAL SERVICE:
Aston Consulting Pty Ltd
LIGHTING CONSULTANT:
Haron Robson
CERTIFIER & ACCESS CONSULTANT:
Steve Watson & Partners
STEEL FABRICATOR:
A & E Metal Craft


AWARDS:
AUSTRALIAN INSTITUTE OF ARCHITECTS, NSW CHAPTER AWARDS 2015
Small Project Architecture Commendation INTERIOR DESIGN EXCELLENCE AWARDS 2015
Workplace Under 1000sqm - Winner AUSTRALIAN TIMBER DESIGN AWARDS 2015
Excellence in Timber Design, Interior Fitout, Commercial, Finalist INTERGRAIN TIMBER VISION AWARDS 2015
Commercial Interior, Commendation


PUBLICATIONS:
"IDEA 2015 Awards: Winner Workplace Under 1000sqm,"
Inside Interior Design Review (November 2015/January 2016): 152-153 Freya Lombardo, "Bresic Whitney,"
Artichoke (Australia) 52, (2015): 28-34


FURNITURE:
Cult
Reception Waiting Chairs – Hans Wegner, 'Shell Chair'; Workstation Task Chairs – Magis, 'Annett' Francesco Binfare, Black 1763C
Living Edge
Reception Waiting Table – E15, 'Habibi Tray Table CM05' Polished Brass
Designer Rugs
Reception Rug - Designer Rugs, 'Coral Shag Natural with Black Core' 220cm diameter
Jardan
Kitchen Table – Jardan, 'Bandy Table' American Oak & Nocturn Corian; Kitchen Stools – Jardan, 'Bandy Chairs' American Oak & Low Bottle; Meeting Room Tables – Jardan, 'Tilda'; Meeting Room Chairs – Jardan, 'Navy'