/ BRESIC WHITNEY ROSEBERY 2018
Commercial office fitout

Bresic Whitney Rosebery is located in a heritage-listed warehouse tenancy. Working within a limited budget and timeframe, the office interior is designed as a theatre-set, without solid walls to reduce cost and expedite completion.

Circular working and meeting pods are arranged with wrapping perimeter curtains, becoming an installational spatial device. At capacity, 25 staff distribute across 3 pods of varying size, encouraging collaboration and allowing flexibility for different team sizes and the staging of increased staff levels. Circular geometry is introduced as a counterpoint to the warehouse grid, and facilitates a diagonal circulation link between the existing street and rear precinct entry. The placement of each pod guides circulation, and with movement, creates the dynamic compression and expansion of space, drawing the visitor towards the central reception desk.

The S-fold velvet curtains provide a level of opulence and surprise to an office interior, and are paired back seamlessly with low-tech materials such as birch plywood and industrial concrete paint. The majority of joinery and furniture is custom-designed in plywood to continue the circular geometry and reduce the palette of materials. Vintage, turn-of-the-century, colours such as olive green, indigo blue and pastel pink, were selected to reflect the buildings heritage and denote each pods function. Floor finishes, curtain tracks and joinery supports match associated curtain colours to create a singular, monochromatic colour palette, appearing as rooms within a volume. Curtain tracks are suspended from the pitched warehouse ceiling, retaining the overall coherence of the warehouse, and the thick velvet curtains are raised above the floor, creating the strange appearance of a weighty mass hovering in mid-air. The endless configuration of curtain positions and rich layering of vintage colours creates an elemental and always-changing interior experience, flexible in both its mode and appearance, creating the maximum effect with an economy of moves.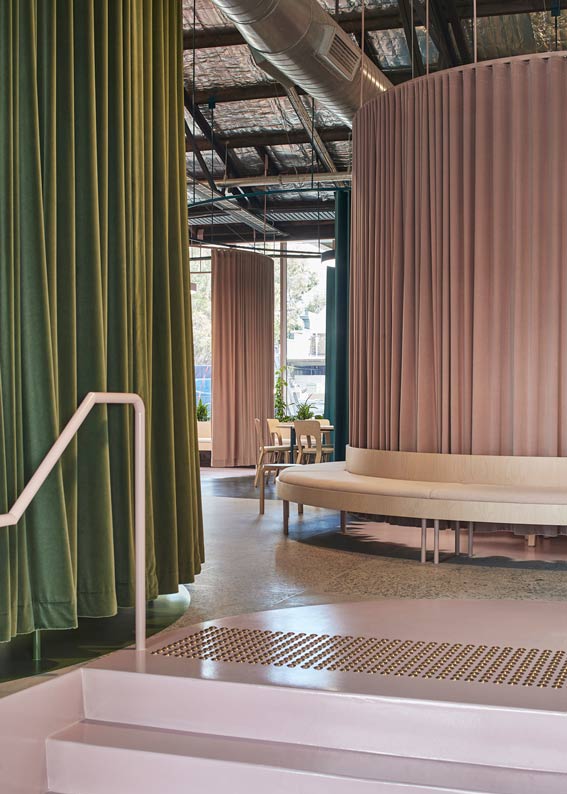 Photographer: Peter Bennetts
Photographer: Peter Bennetts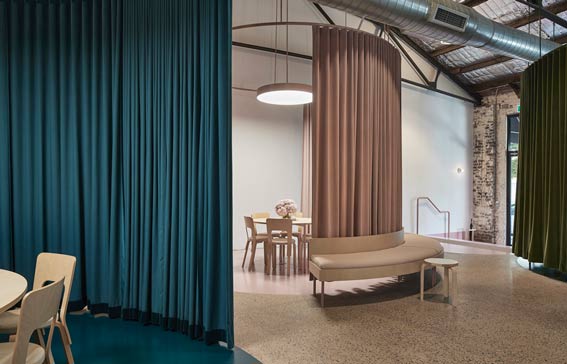 Photographer: Peter Bennetts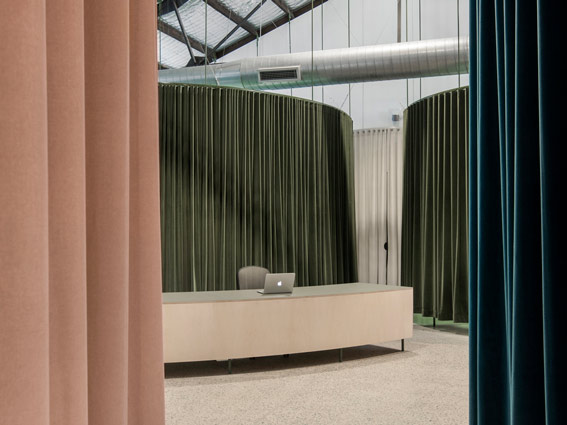 Photographer: Ben Hosking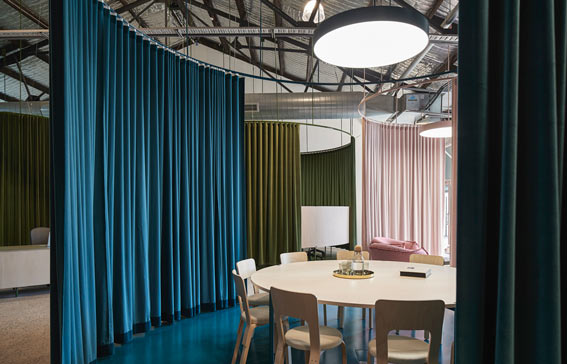 Photographer: Peter Bennetts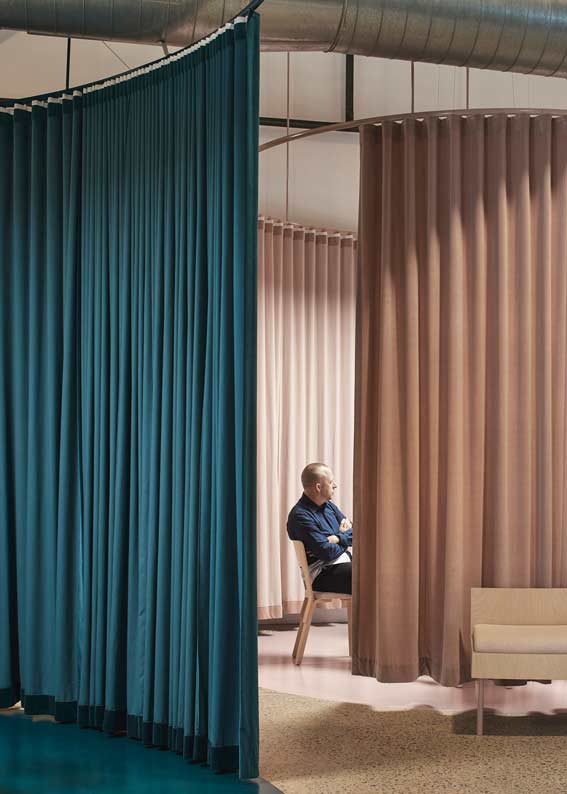 Photographer: Peter Bennetts
Photographer: Peter Bennetts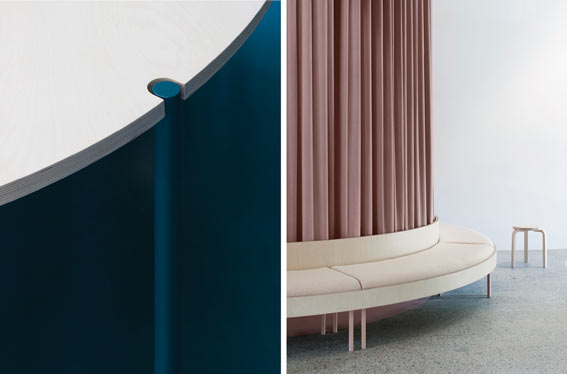 Photographer: Ben Hosking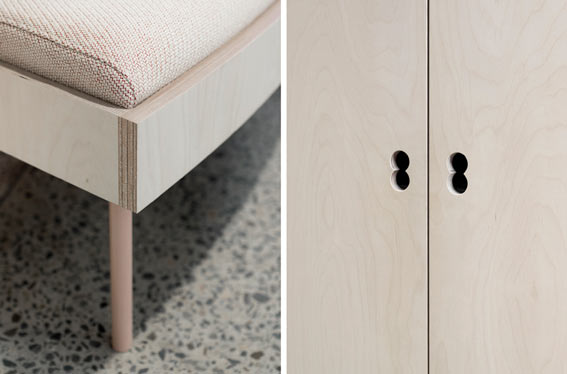 Photographer: Ben Hosking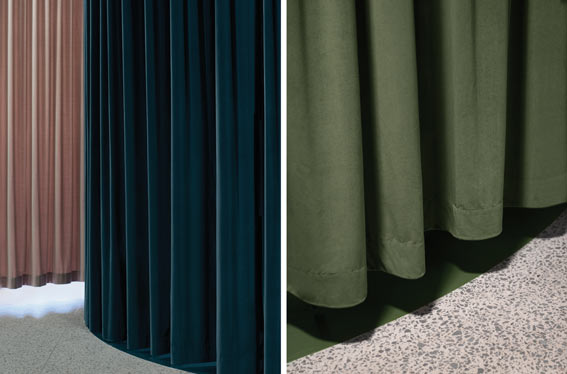 Photographer: Ben Hosking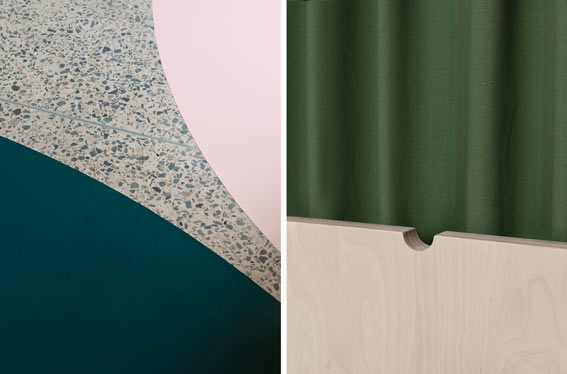 Photographer: Ben Hosking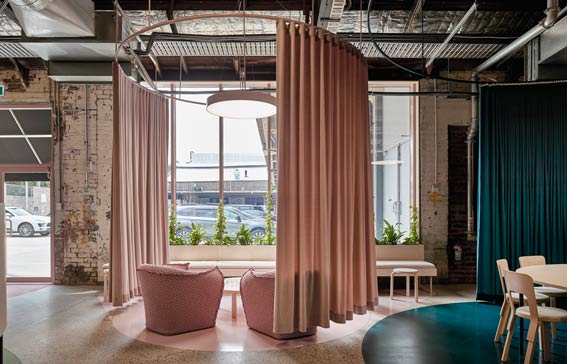 Photographer: Peter Bennetts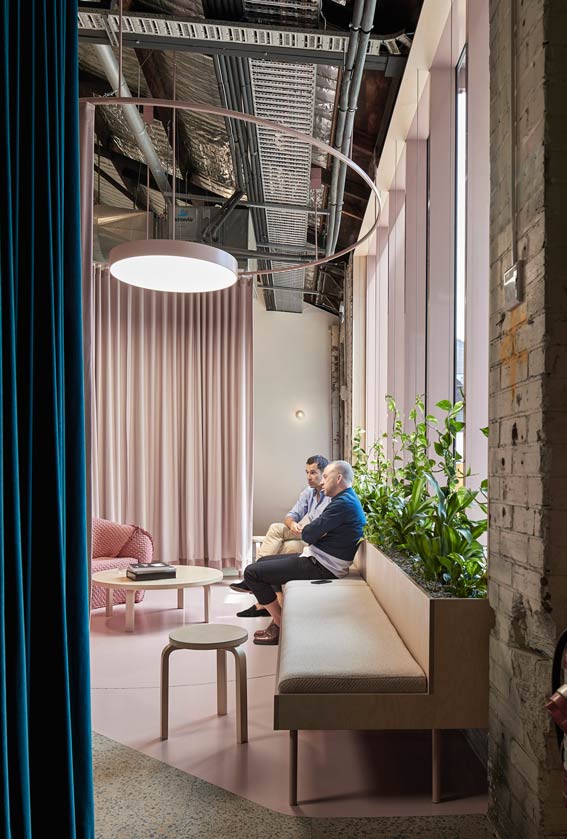 Photographer: Peter Bennetts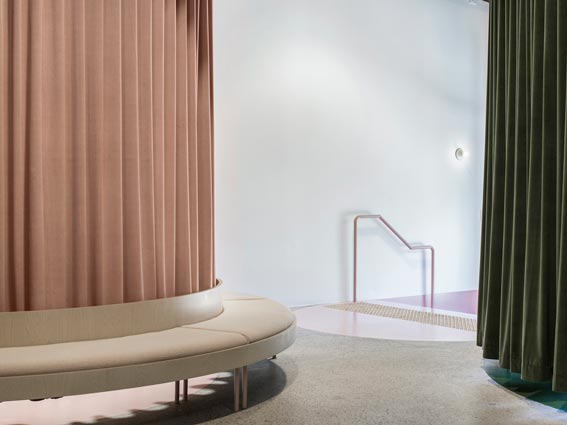 Photographer: Ben Hosking
DATE:
Completed 2018
PHOTOGRAPHER:
Peter Bennetts & Ben Hosking
PROJECT MANAGER/BUILDER:
Mobius Build
STRUCTURAL ENGINEER:
SDA Structures
JOINER:
JP Finsbury
HERITAGE CONSULTANT:
Weir Phillips
CURTAIN SUPPLIER:
Simple Studio
AWARDS:
AUSTRALIAN INSTITUTE OF ARCHITECTS, NSW CHAPTER AWARDS 2018
Interior Architecture – Shortlisted



FURNITURE:
Hub Furniture
Waiting Area Chairs – Moroso 'Panna Armchair'
Anibou
Waiting Table – Artek '90A Coffee Table'; Stools – Artek '60 Stool'; Meeting Room Chair – Artek '66 Chair'
dedece
Task Chair – Knoll Office 'Chadwick Chair'
Humanscale
Monitor Arms - M2 'Monitor Arm'
Living Edge
Drinks Tray – e15 'CM05 Habibi Tray in polished brass'