/ RUSHCUTTERS BAY APARTMENT 2003
Interior refurbishment of a waterfront apartment.

The initial concern of the apartment fitout was to establish a sense of structure and spatial logic in the design through the use of repetition. The floor plan of the apartment was simplified and significant areas of storage were added to provide a serene clutter free space. Three repetitive elements have been incorporated in the project; tiling strips, ceiling lighting strips and wall lighting strips. These patterns of repetition are used to blur functional elements and ornamental elements: the floor tiling pattern accommodates floor tracks, hidden plumbing lines and electrical channels. The vertical columns and overhead channels contain light fittings.

The spatial structuring of the apartment responds to the clients wish for flexible spaces. The principal strategy involved is the use of sliding panels associated with the laundry core. Depending on their configuration, the panels compartmentalize the space or allow a sense of fluid space. The same dark timber used for the laundry is also used for the kitchen island to bring out their close relationship. Together they read as freestanding elements against the white walls of the L-shaped apartment.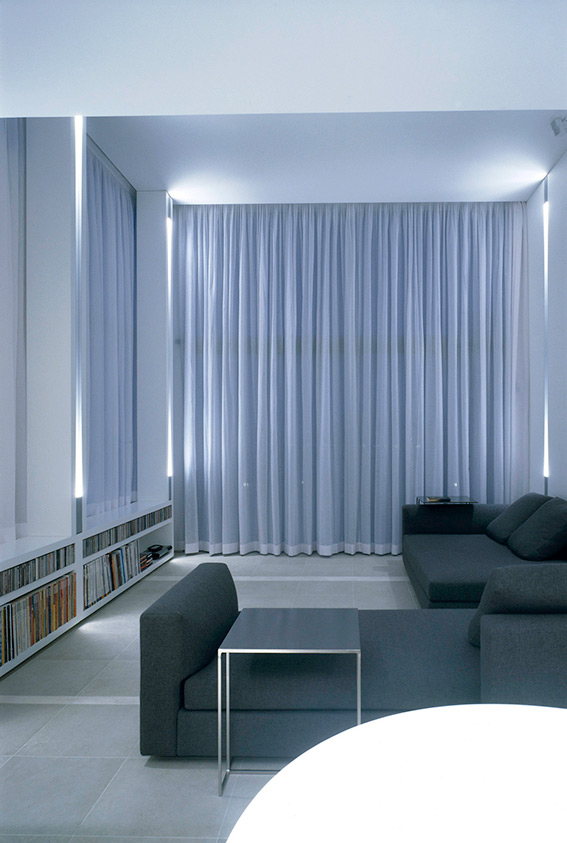 Photographer: Bart Maiorana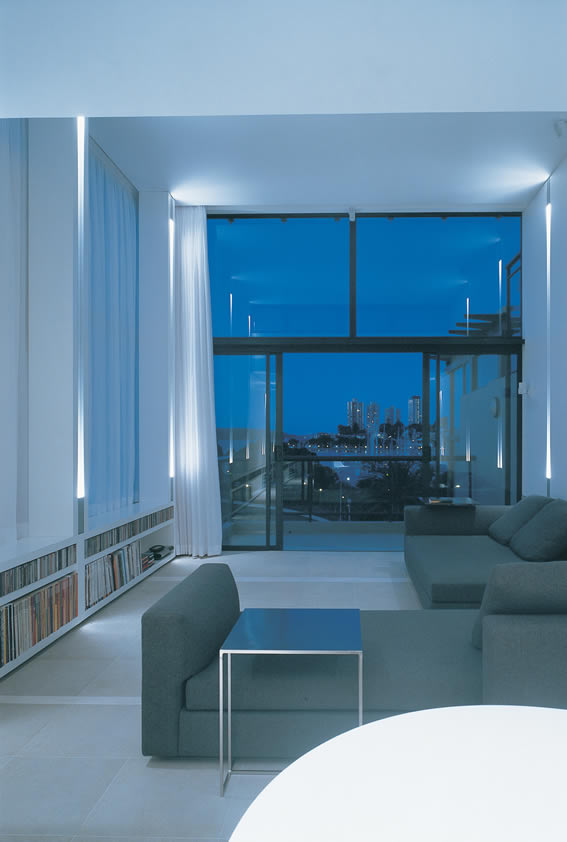 Photographer: Bart Maiorana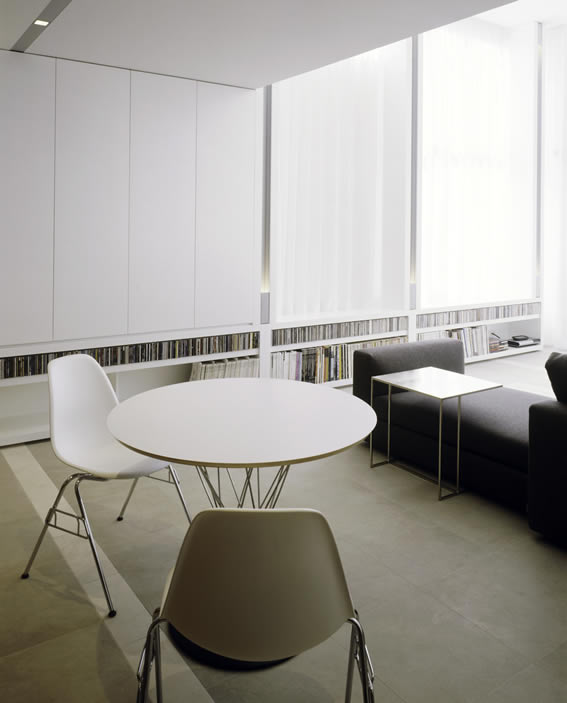 Photographer: Bart Maiorana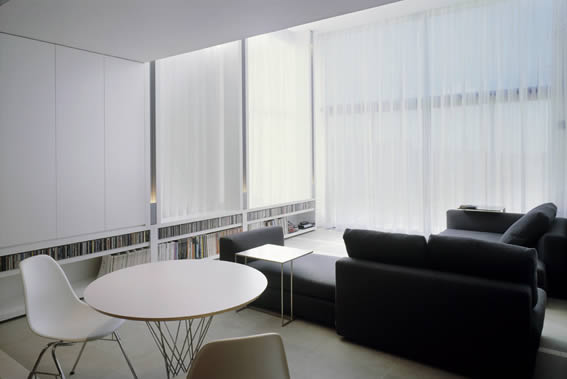 Photographer: Bart Maiorana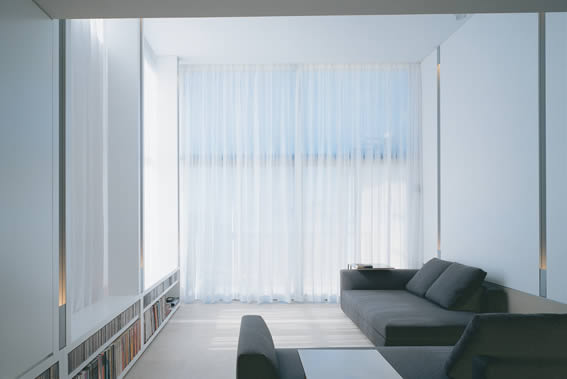 Photographer: Bart Maiorana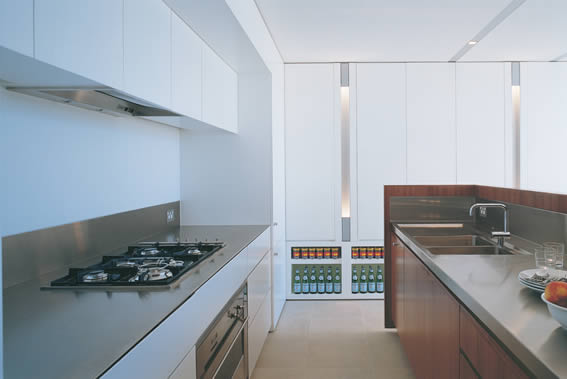 Photographer: Bart Maiorana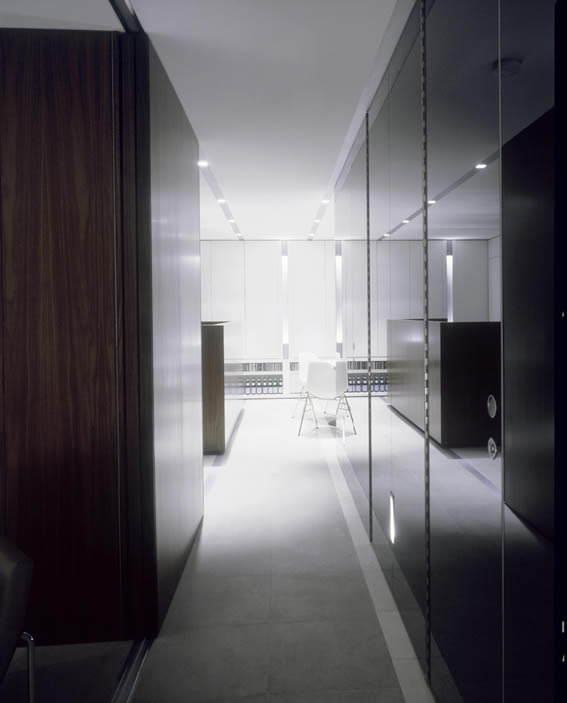 Photographer: Bart Maiorana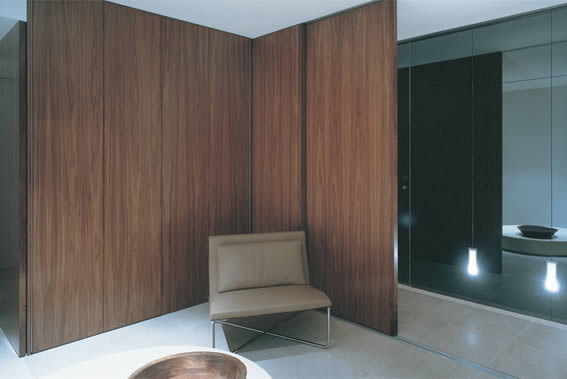 Photographer: Bart Maiorana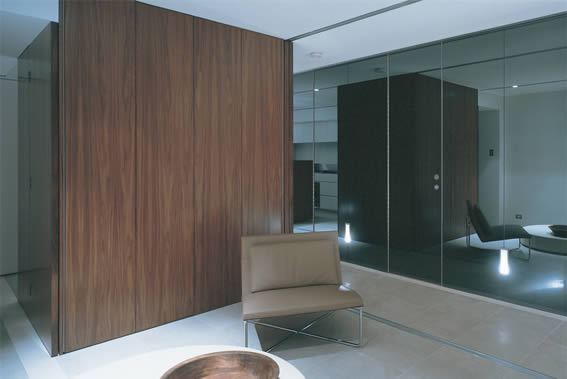 Photographer: Bart Maiorana
DATE:
Completed 2003
PHOTOGRAPHER:
Bart Maiorana
PROJECT MANAGER:
MAMINC


AWARDS:
ROYAL AUSTRALIAN INSTITUTE OF ARCHITECTS, NSW CHAPTER AWARDS 2003
Commendation for Interior Architecture BELLE, APARTMENT OF THE YEAR, 2003
Finalist


PUBLICATIONS:
Narelle Yabuka, "The Space Between,"
Houses (Australia) 65, (2008): Cover, 111-120 Ling Hao, "Two Voices – One Room,"
d+a; design + architecture (Singapore) 20, (2004), 71-83 Sarah Sinclair, "Ultra Linear,"
Belle 'Design News' (Australia), October/November 2003, 18-19 "2003 NSW RAIA Awards,"
Architecture Bulletin (Australia), July/August 2003, 36 Janelle McCulloch, A Pocketful of Apartments
(Melbourne: The Images Publishing Group Pty Ltd, 2007), 220-221, 285 Stephen Crafti, 50 of the World's Best Apartments
(Melbourne: The Images Publishing Group Pty Ltd, 2004), 28-29 Stephen Crafti, Making More of Small Spaces
(Melbourne: The Images Publishing Group Pty Ltd, 2003), 106-107 Stephen Crafti, "Mirror, mirror on the wall ...and ceiling,"
Australian Financial Review, Dec. 21-27, 2007 Guy Allenby, "Sweet Music,"
Sydney Morning Herald '100 Amazing Sydney Homes - Part One', Nov. 8, 2003 Guy Allenby, "House Honours,"
Sydney Morning Herald 'Domain,' July 3, 2003.


FURNITURE:
DEDECE
Table - Knoll Studio, Isamu Noguchi, Cyclone Table; Chair- Minotti, Rodolfo Dordoni 'Diller';
Lounge - Minotti, Rodolfo Dordoni 'Kline'; Side table - Minotti, Rodolfo Dordoni 'Leger';
Lights - Kreon 'Side' light; Kreon 'Dolma 80', Tom Dixon 'Star Light'