/ K HOUSE 2013
New four bedroom dwelling and pool

The client desired an extremely private house, yet required it to open on three sides; to the spectacular view towards Sydney Harbour, the sunny northern aspect and the rear garden. In response to the client's brief the house has been constructed within a protective masonry shell. The walls of the masonry shell are faceted and heavy, and have been sculpted to provide the necessary privacy to the interior without sacrificing solar access. Designed to fit within the local planning envelope controls, the walls diminish in height when approaching the boundary, creating a zigzag profile on the northern façade. The resultant geometry foreshortens the perspective of the building when viewed externally, whilst the oblique angles manipulate and extend the perspectival depth of the interior.

Within the masonry shell a light glazed and louvred structure has been inserted that nestles against the southern wall, appearing to 'float' above the living space and courtyards below. Living rooms on the ground level are arranged around irregularly shaped courtyards, a maple tree and mirrored cores. The solid textured render of the external walls contrasts with the spotted gum timber internal lining of the house. The materials are left raw and uncoated and are designed to weather with age.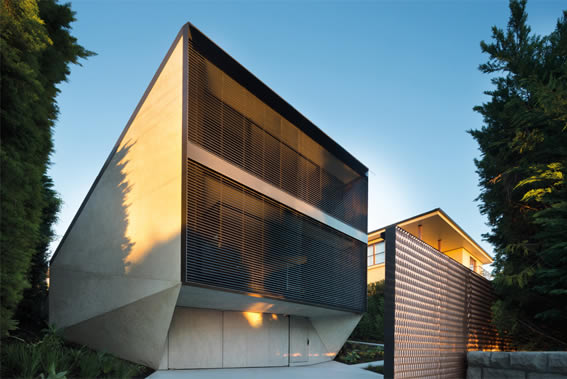 Photographer: John Gollings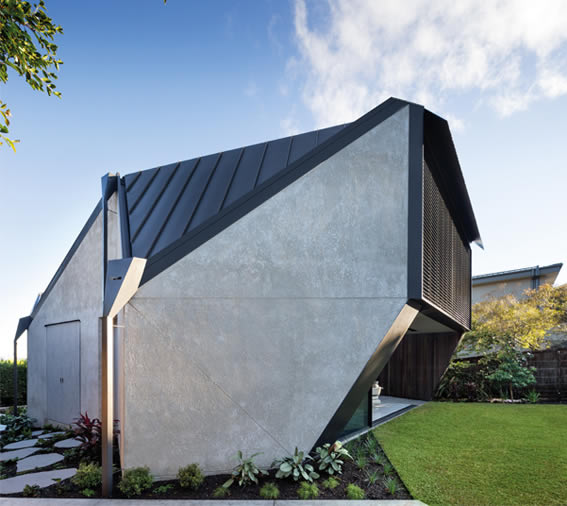 Photographer: John Gollings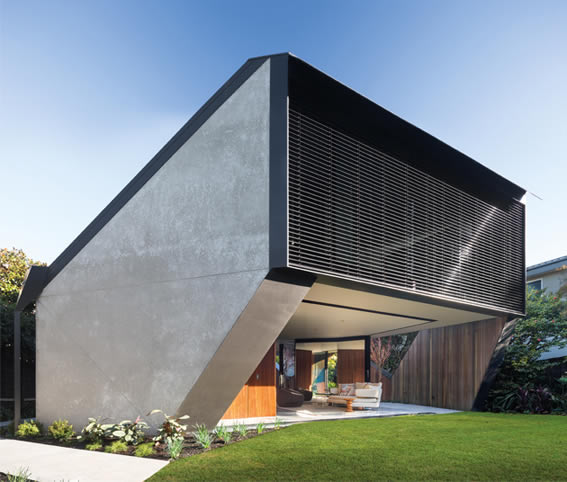 Photographer: John Gollings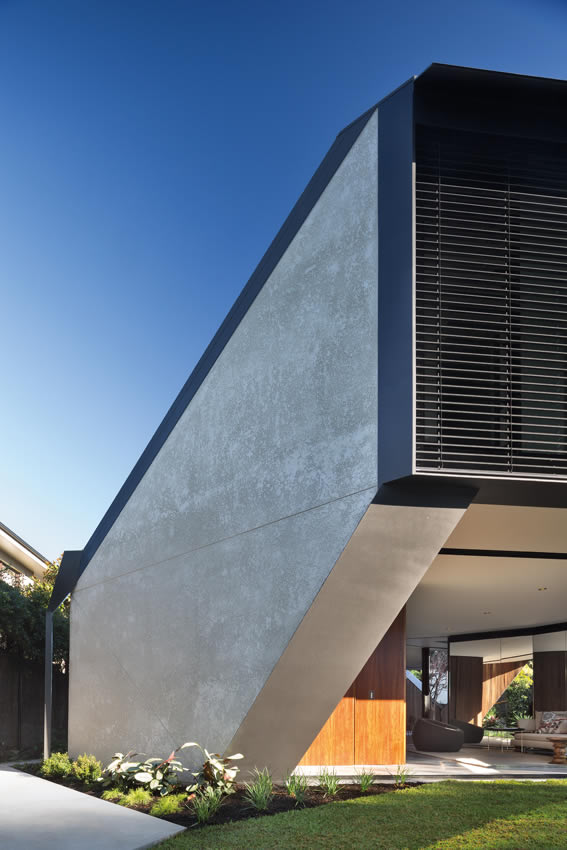 Photographer: John Gollings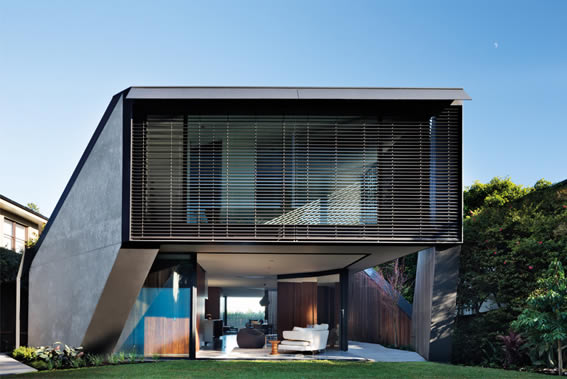 Photographer: John Gollings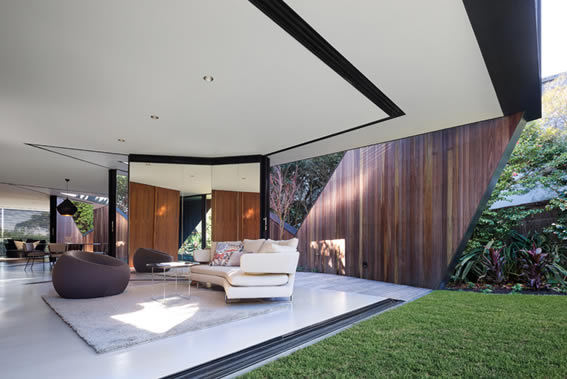 Photographer: John Gollings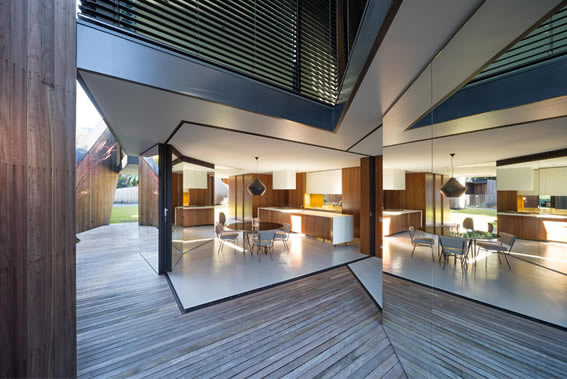 Photographer: John Gollings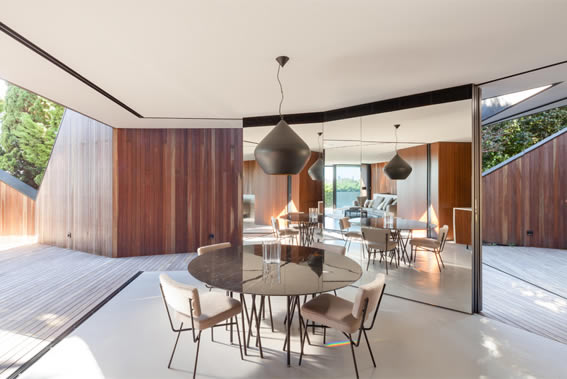 Photographer: Katherine Lu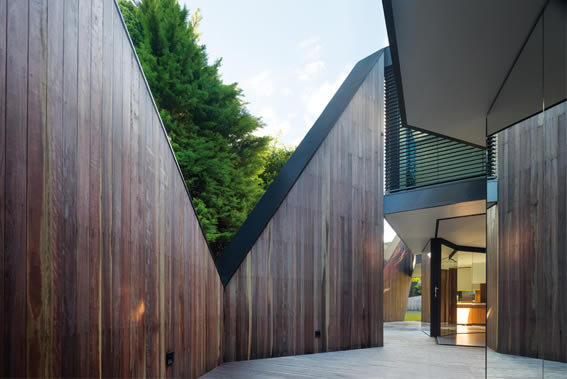 Photographer: John Gollings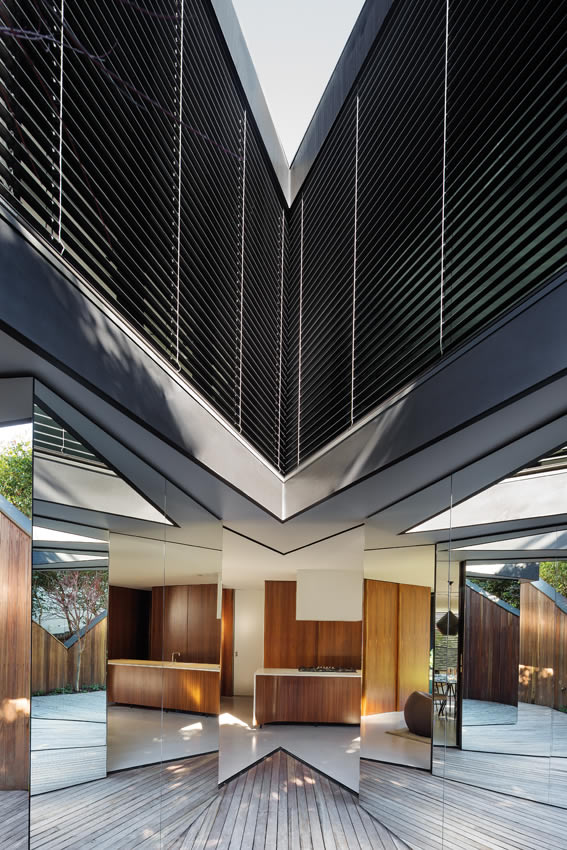 Photographer: John Gollings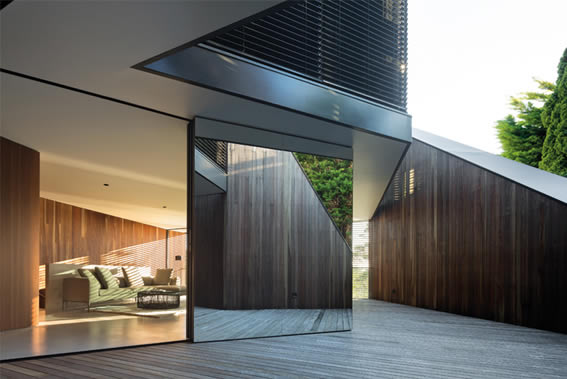 Photographer: John Gollings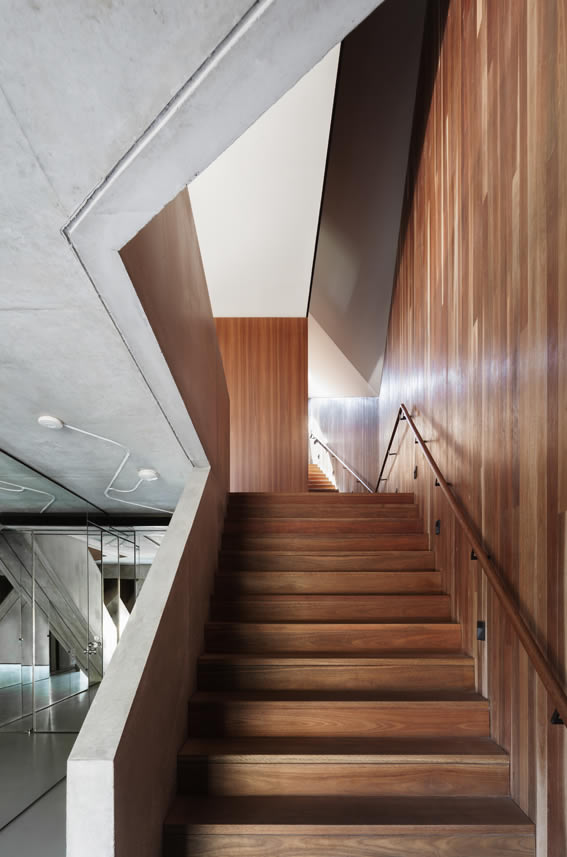 Photographer: Katherine Lu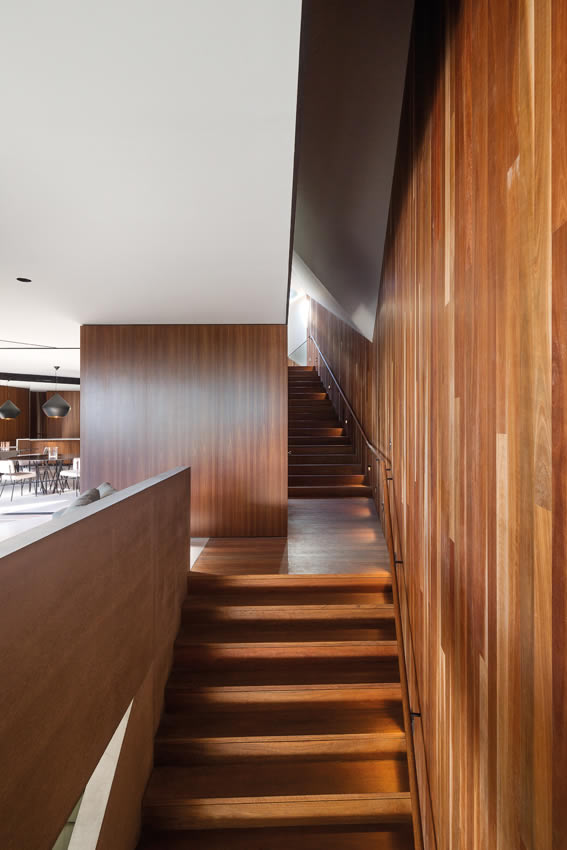 Photographer: John Gollings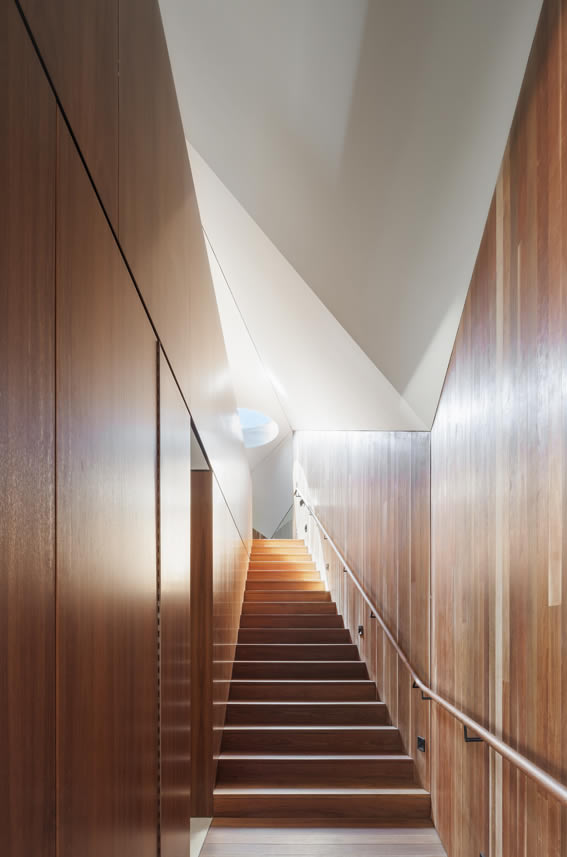 Photographer: Katherine Lu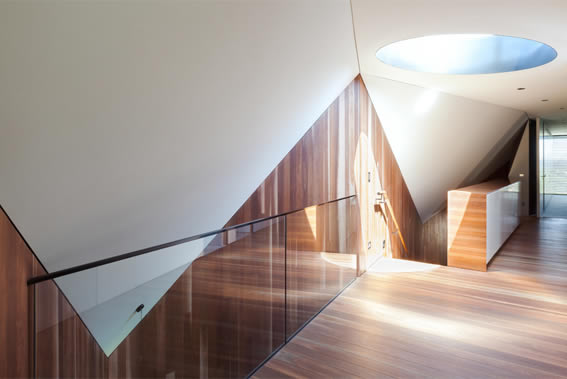 Photographer: Katherine Lu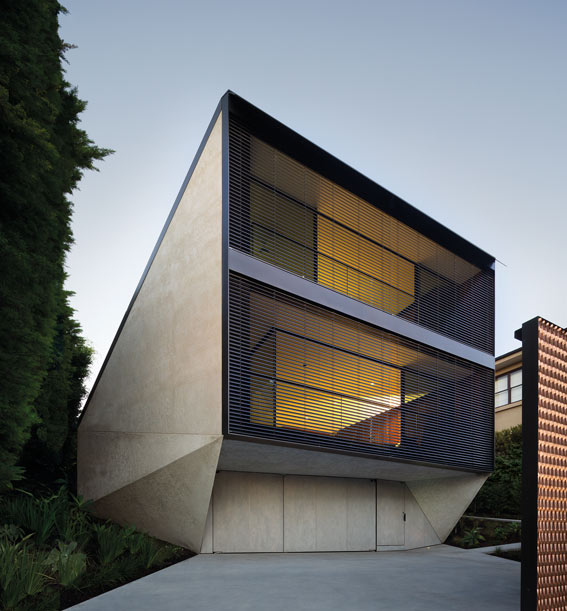 Photographer: Katherine Lu
DATE:
Completed 2013
PHOTOGRAPHER:
John Gollings & Katherine Lu
STRUCTURAL ENGINEER:
Simpson Design Associates
HYDRAULIC ENGINEER:
Whipps Wood Consulting
BUILDER:
Pacific Plus Constructions


AWARDS:
AUSTRALIAN INSTITUTE OF ARCHITECTS, NATIONAL AWARDS 2014
Residential Architecture Award Finalist – Houses (New) AUSTRALIAN INSTITUTE OF ARCHITECTS, NSW CHAPTER AWARDS 2014
Residential Architecture Award – Houses (New) MASTER BUILDERS ASSOCIATION EXCELLENCE IN HOUSING AWARDS 2015
Contract Houses - Winner


PUBLICATIONS:
"Chenchow Little, K House,"
GA Houses (Japan) 132, (2013): 42-53 David Neustein, "K House by Chenchow Little Architects,"
Houses (Australia) 98, (June 2014): 46-53 David Neustein, "Private Reflection,"
Houses Kitchens + Bathrooms (Australia) 09, (June 2014): 30-36.


FURNITURE:
Living Edge
Stool - Herman Miller, Ray Eames, 'Eames Walnut Stool'
Poliform
Dining Table - Arflex, Carlo Colombo 'Octopus';
Dining Chairs - Arflex, B.B.P.R 'Elletra'
Space Furniture
Family Lounge - B&B Italia, Antonio Citterio 'Arne';
Living Lounge - B&B Italia, Antonio Citterio 'Michel';
Living Lounge (Circular) - Maxalto, Antonio Citterio 'Amoenus Swivel Sofa';
Living Coffee Table - B&B Italia, Atelier Oi 'Reel';
Family Coffee Table - B&B Italia, Fat-Fat 'Small Coffee Table';
Chair - B&B Italia, Gaetano Pesce 'Up1';
Side Table - B&B Italia, Fat-Fat 'Small Coffee Table'
Euroluce
Lamp - Joe Colombo, 'Coupe Floor'
Designer Rugs
Living Rug - Coral Shag in 'Natural Black';
Family Rug - Napoleon in 'Dark Beige'
Spence & Lyda
Cushions - Missoni;
Bedroom Throw - Missoni