/ SZIRTES HOUSE 2005
New three bedroom dwelling and pool

The site for the Szirtes House is flat, introverted, and without views. Conceptually, we separated the Szirtes House into a series of layers or systems. This helped us to create a spatial strategy for the clients' brief, and for the site. We imagined the site as an abstracted horizontal ground plane, enclosed within the site boundaries. Living spaces occupy the ground plane which seamlessly merge with the garden. Perimeter hedge planting visually extends the perception of the enclosure beyond the walls of the house, and provides privacy to the ground plane. A series of glass sliding doors forms the enclosure of the house on the ground plane. The doors open up from the corners, blurring the relationship between the house and the garden. The spaces of the house are arranged around a north facing courtyard. A Japanese maple tree is located in the centre of the courtyard. Curtains follow the alignment of the glass sliding doors, and allow the client to modulate and compartmentalise the spaces to suit their changing needs. The bedroom volume floats above the ground plane heightening the seamless quality of the living space and garden.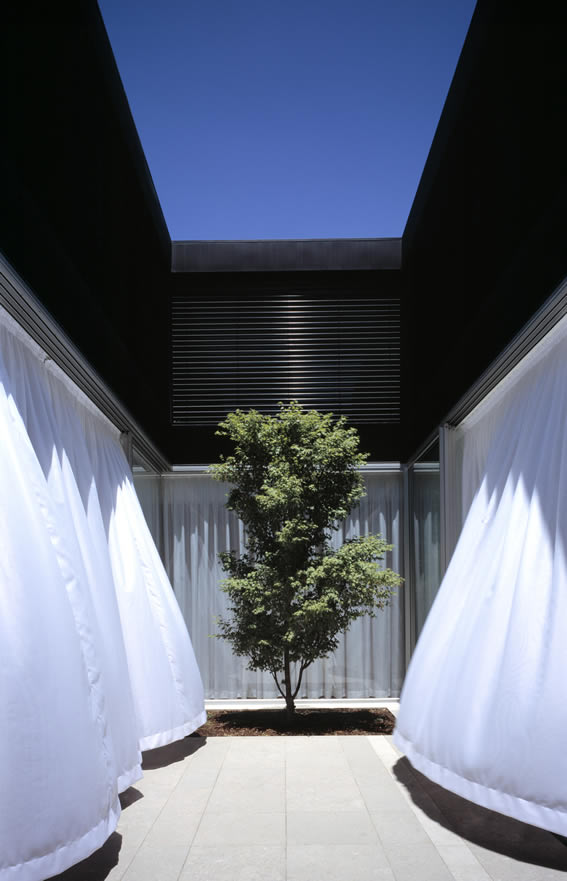 Photographer: Richard Glover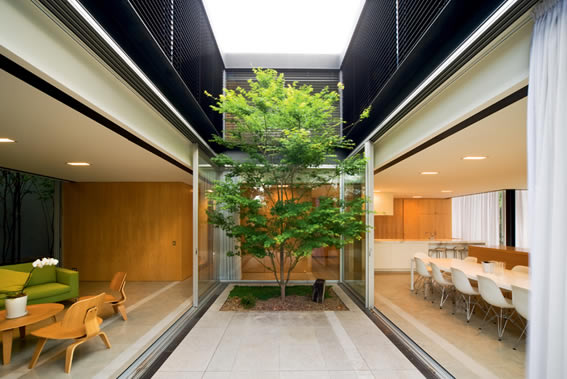 Photographer: John Gollings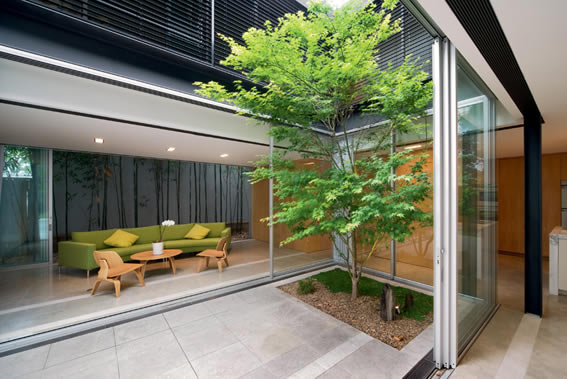 Photographer: John Gollings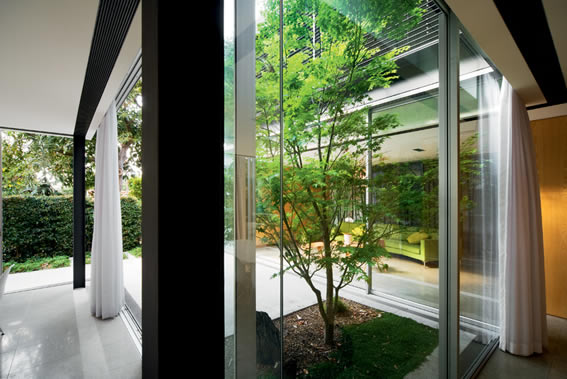 Photographer: John Gollings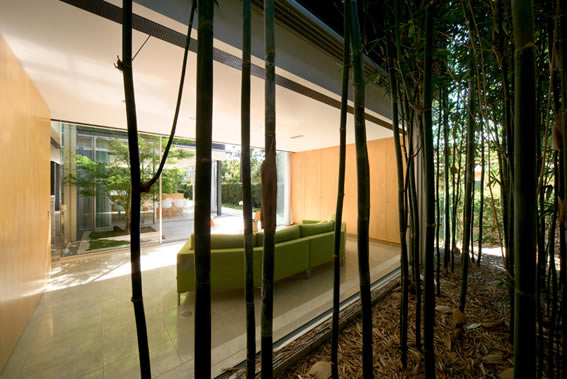 Photographer: John Gollings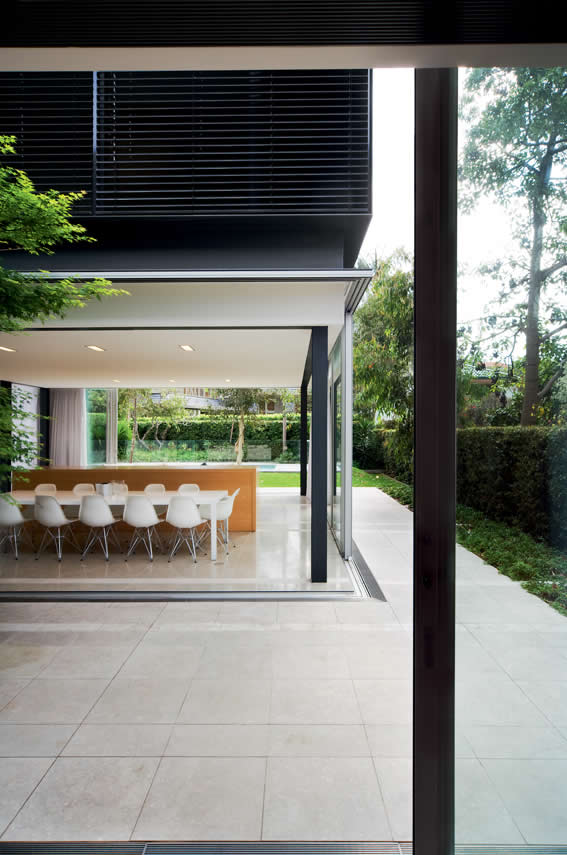 Photographer: John Gollings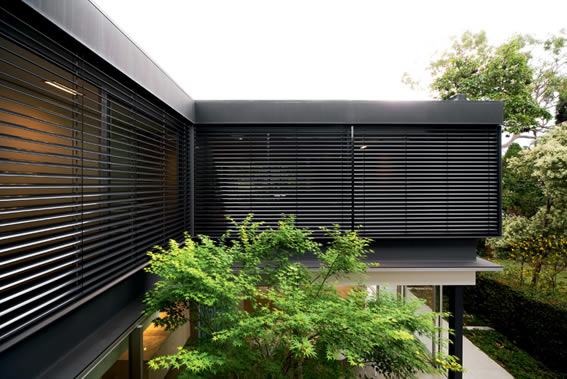 Photographer: John Gollings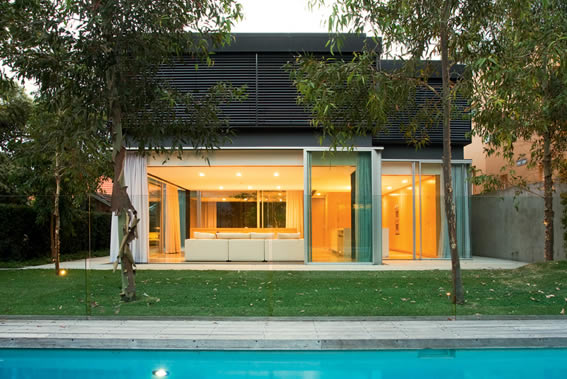 Photographer: John Gollings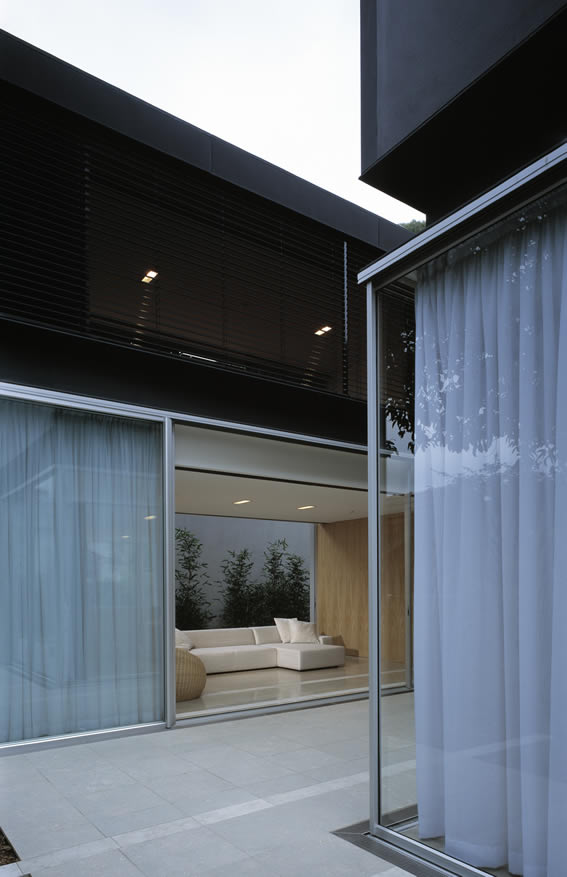 Photographer: Richard Glover
Photographer: Richard Glover
DATE:
Completed 2005
PHOTOGRAPHER:
John Gollings & Richard Glover
STRUCTURAL ENGINEER:
Simpson Design Associates
HYDRAULIC ENGINEER:
Whipps Wood Consulting
BUILDER:
Tecorp Constructions Pty Ltd


AWARDS:
ROYAL AUSTRALIAN INSTITUTE OF ARCHITECTS, NSW CHAPTER AWARDS 2005
Shortlist – Residential New


PUBLICATIONS:
Narelle Yabuka, "The Space Between,"
Houses (Australia) 65 (2008): Cover, 111-120 "Szirtes House,"
Ktirio Architecture + Design (Greece) 10, (2008): 178–183 Stephen Crafti, "Inside Outside,"
Mindfood Magazine (New Zealand), May 2008, 14, 128-135 Stephanie Little, "Nature & Nurture,"
Monument (Australia) 83, (Feruary/March 2008): 58-63 Interior Digest (Moscow) 72, no. 8 (2006): 128-137 Ang Chee Cheong, "Flux and Flexibility,"
d+a; design + architecture (Singapore) 29, (2006): 28-33 Ling Hao, "Two Voices – One Room,"
d+a; design + architecture (Singapore) 20, (2004): 71-83 Stanislaus Fung, "Serenity Bears No Signature,"
Architecture Australia (Australia) 94, no. 4 (July/August 2005): 54-59 Michelle Gallindo, Collection: Houses
(Germany: Verlagshaus Braun Publishing, March 2009), 286-293 Oscar Mira Vazquez, Family Houses
(Spain: Instituto Monsa de Ediciones, 2009), 74-83 Cathy Strongman, 100 Houses
(Modern Houses for Contemporary Living)
(London: Merrell Publishers Limited, 2009), Cover, 9, 220-223 Stephen Lacey, "Peek of Success,"
Sun Herald 'Home on Sunday,' Aug. 20, 2006 Anabel Dean, "Suburban Liberation,"
Sydney Morning Herald 'Domain,' Feb. 9, 2006


FURNITURE:
Living Edge
Dining Chairs - Herman Miller, Charles and Ray Eames, Plastic Side Chairs – Eiffel Base;
Coffee Table - Herman Miller, Charles and Ray Eames, Moulded Plywood Coffee Table;
Chairs - Herman Miller, Charles and Ray Eames, Moulded Plywood Lounge Chairs