/ PITCHED ROOF HOUSE 2009
New four bedroom dwelling

The Pitched Roof House evolved from a strict interpretation of planning codes that require new houses to have pitched roofs. The new house reinterprets the traditional pitched room. Unlike a traditional pitched roof, the triangles not only pitch up, but also invert to form a faceted roof plane. The triangular geometry of the roof is continued down onto the facades of the house, and became the basis for articulating openings. The variability of the triangular geometry gave us the freedom to push and pull the building form as required to suit the brief of the client, the local town planning codes, the scale of the neighbouring roofs, and the requirement for solar access to the living rooms. The living rooms are located on the top floor to take advantage of the sculptural roof plane, the views across Sydney harbour, and sunlight. Bedrooms are located on the lower levels were outlook and solar access are compromised by neighbouring houses.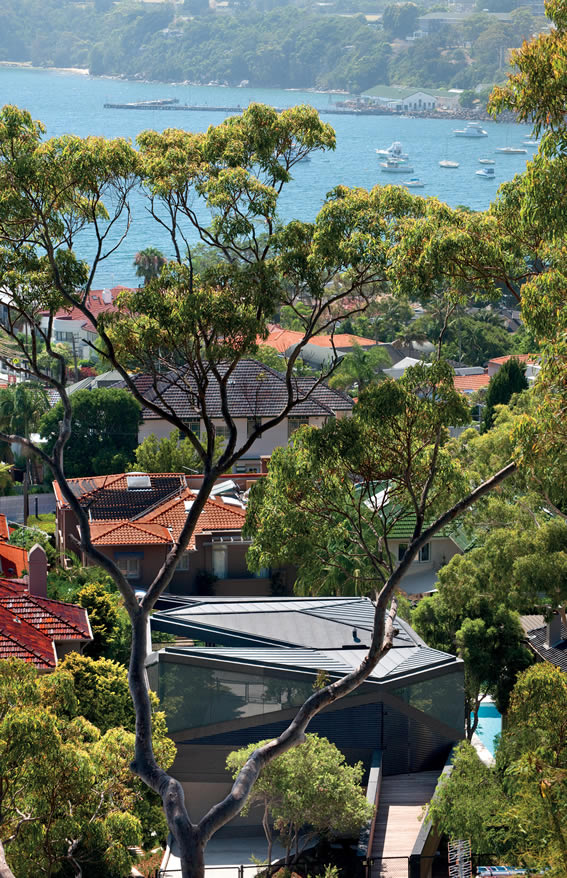 Photographer: John Gollings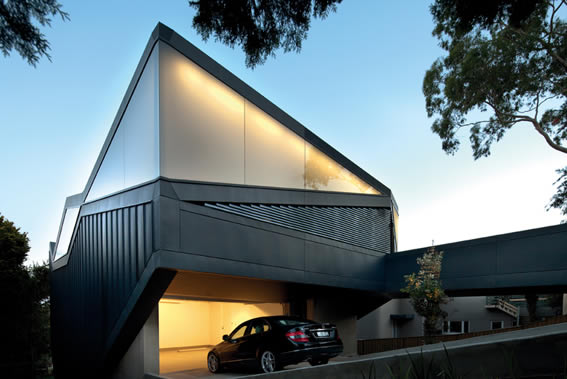 Photographer: John Gollings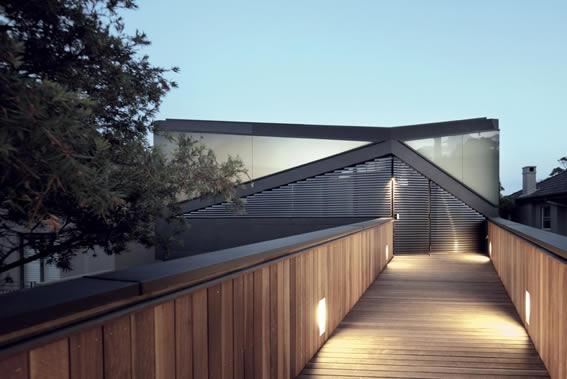 Photographer: John Gollings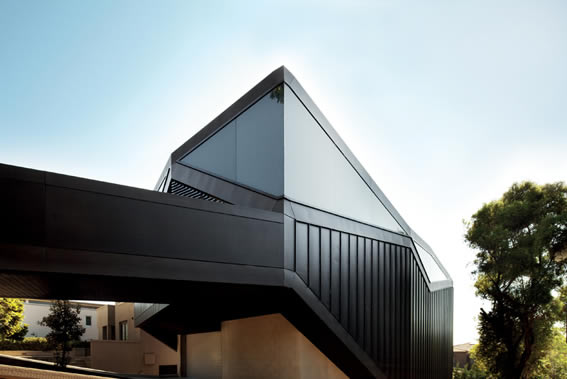 Photographer: John Gollings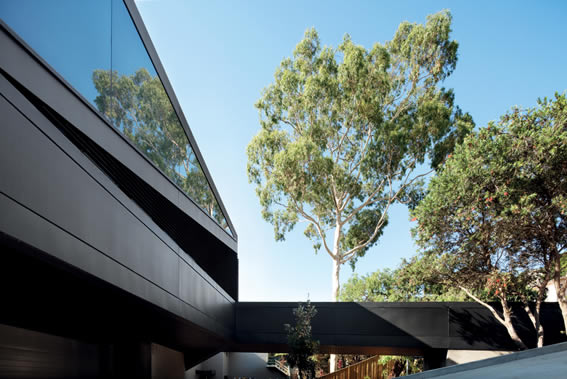 Photographer: John Gollings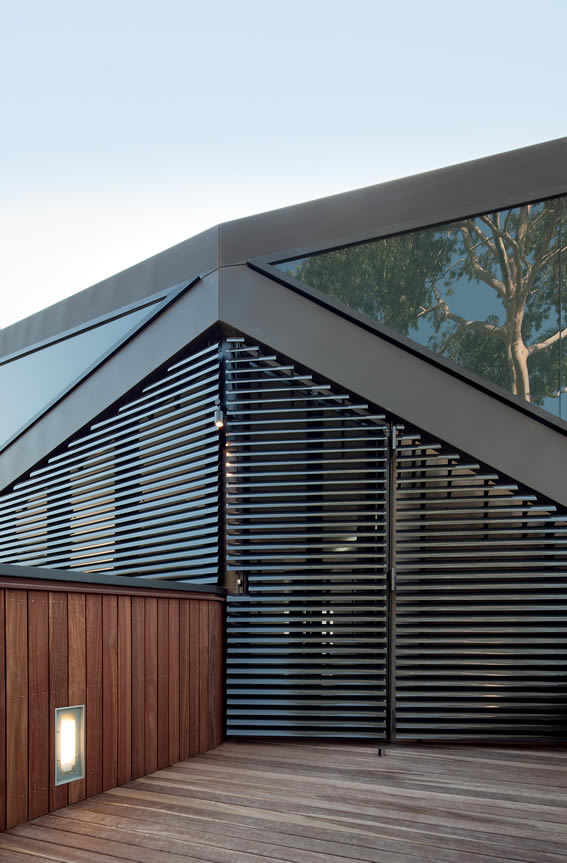 Photographer: John Gollings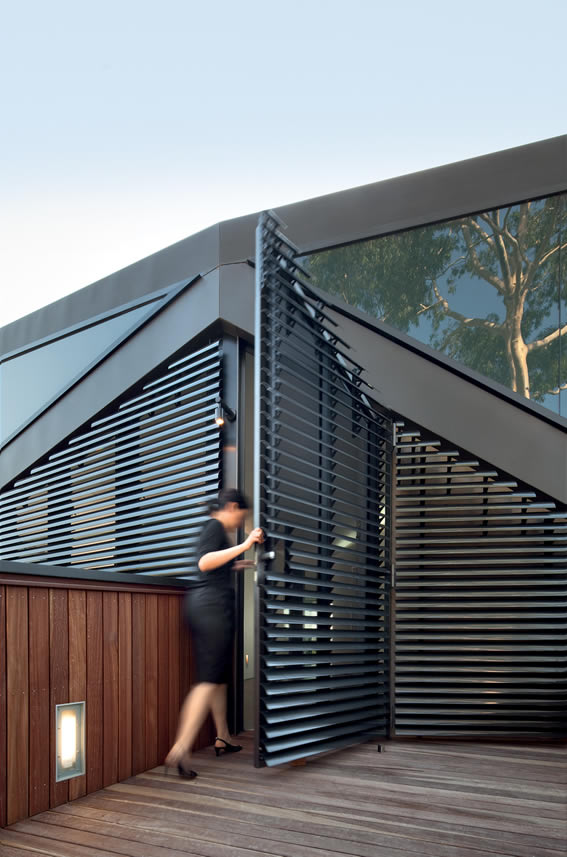 Photographer: John Gollings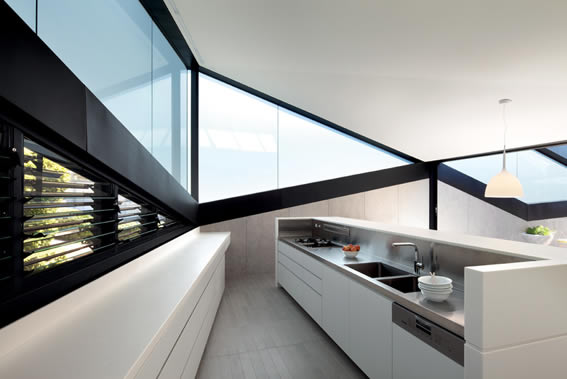 Photographer: John Gollings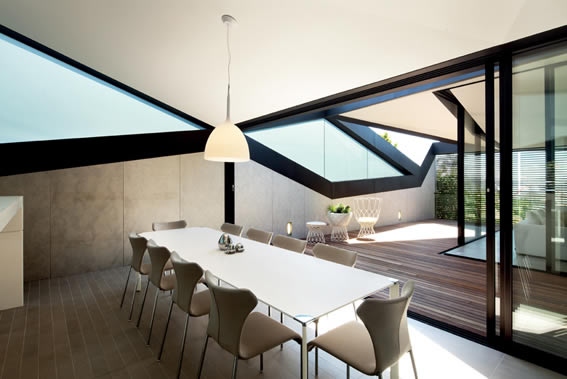 Photographer: John Gollings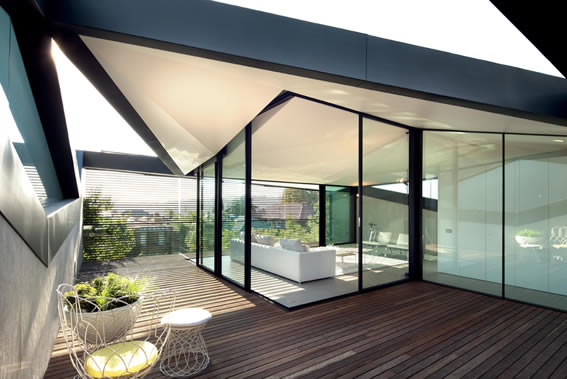 Photographer: John Gollings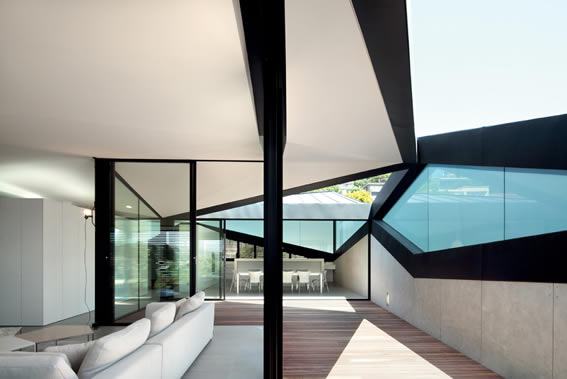 Photographer: John Gollings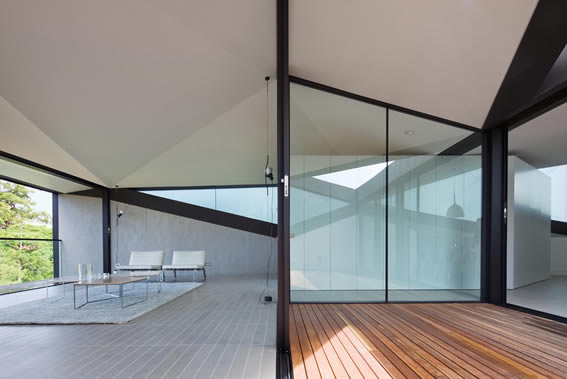 Photographer: John Gollings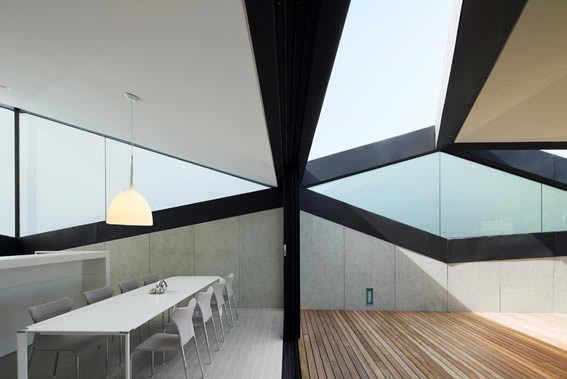 Photographer: John Gollings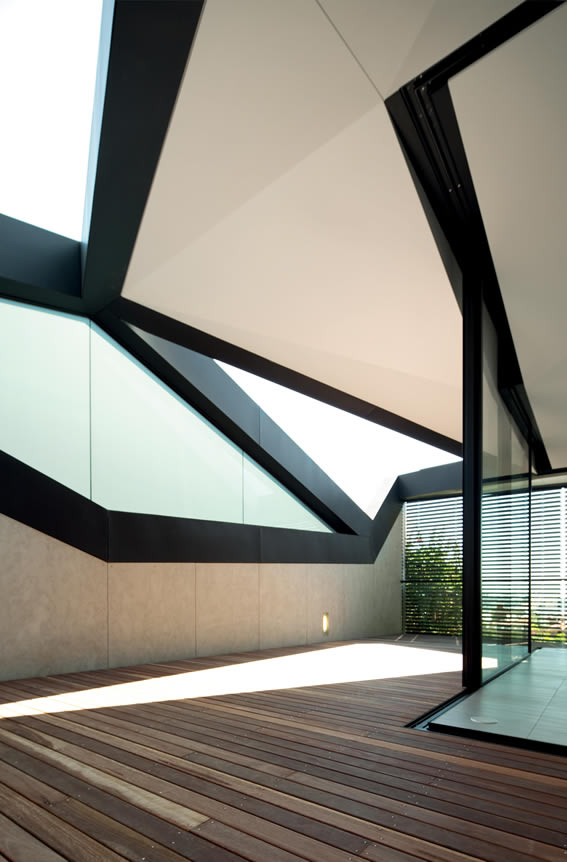 Photographer: John Gollings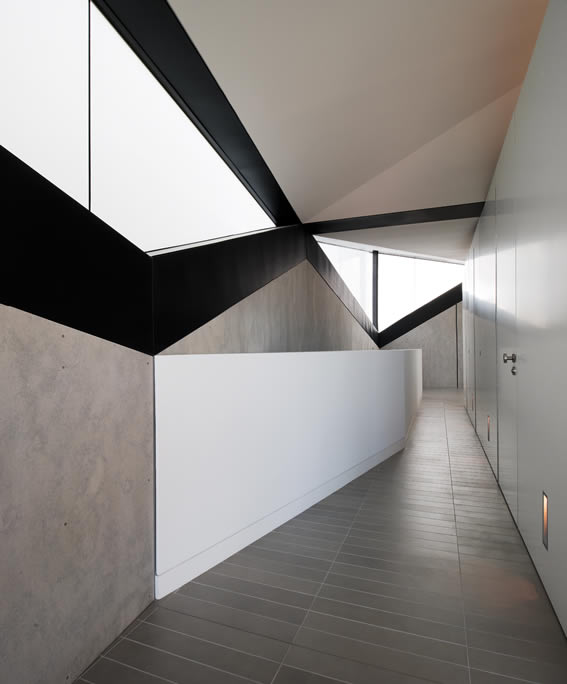 Photographer: John Gollings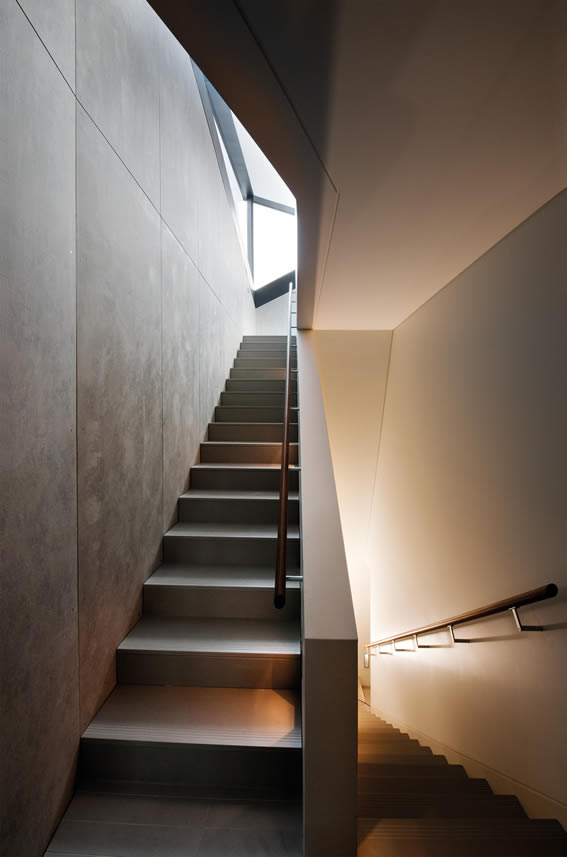 Photographer: John Gollings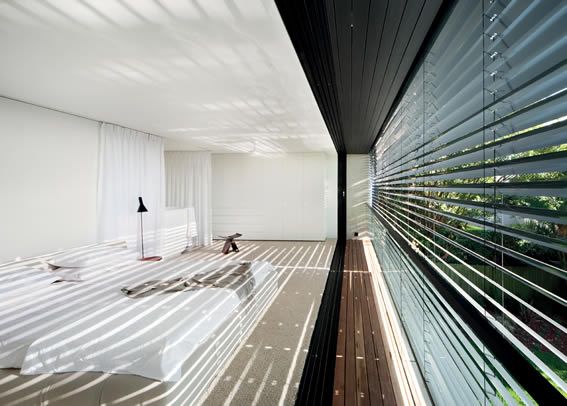 Photographer: John Gollings
DATE:
Completed 2009
PHOTOGRAPHER:
John Gollings
STRUCTURAL ENGINEER:
Simpson Design Associates
HYDRAULIC ENGINEER:
TJ Taylor Consultants Pty Ltd
BUILDER:
Tecorp Constructions Pty Ltd


AWARDS:
HOUSING INDUSTRY ASSOCIATION, CSR HOUSING AWARDS 2011
Australian Solutions in Steel Award HOUSING INDUSTRY ASSOCIATION, CSR NSW HOUSING AWARDS 2010
Finalist - Custom Built Home over $2,000,000.00 WORLD ARCHITECTURE FESTIVAL AWARDS 2010
Shortlist - Completed Buildings - House Category


PUBLICATIONS:
"Chenchow Little, Pitched Roof House,"
GA Houses (Japan) 127, (2012): 78-87 "A Story with Triangles,"
MD International (Bulgaria), April/May 2012, 92-95 "Pitched Roof House, Sydney, Australia,"
IW Magazine, Detail '12 (Taiwan), Special Issue, (2012): 43, 112-115 "Pitched Roof House, Sydney, Australia,"
IW Magazine (Taiwan) 79, (May 2011): Cover, 34-41 Stephen Crafti, "Pitch Perfect,"
Wallpaper (UK) 145, (April 2011): 158-160 David Neustein, "Perfect Pitch,"
Mark Magazine (The Netherlands), October 2010, 144-153 Stanislaus Fung, "Pitched Roof House,"
Architecture Australia (Australia) 99, no. 3 (May/June 2010): 87-92 The Essence of Cool, ed. Ger Bruens
(The Hague, Netherlands: Eleven International Publishing, 2012), 28-33 Joe Rollo, Beautiful Ugly, The Architectural Photography of John Gollings
(Melbourne: Thames & Hudson Australia Pty Ltd, 2011), 215


FURNITURE:
DEDECE
Lounge - Minotti, Rodolfo Dordoni 'Matisse Modern';
Chairs - Minotti, Rodolfo Dordoni 'Dalaunay';
Coffee table - Minotti, Rodolfo Dordoni 'Jess'
Space Furniture
Dining table - Accademia 'Teko', Dining Chairs: B&B Italia, Naoto Fukusawa 'Papilio'
Kezu
Outdoor Setting - Patricia Urquiola 'Re-Trouve Armchair 566 & Ottomon 575'
Artemide
Huub Ubbens & Michele De Lucchi 'Castore Calice Sospensione'
Euroluce
Achille Castiglioni & Pio Manzu 'Parentesi'