/ DAVENPORT HOUSE 2008
Interior refurbishment of a 1950's dwelling

This new kitchen and dining room were part of a larger refurbishment of an existing 1950's courtyard house in Sydney's eastern suburbs. The aim of the refurbishment was to maximize views from the kitchen to Sydney Harbour, and provide a 'fluid' space between the kitchen and dining area whilst still providing some separation between them. The response was to demolish the existing 1950's kitchen servery and insert in its place a continuous benchtop with overhead cupboards. The fluid cantilevered form of the cabinets is highlighted in a contrasting blackbean veneer, which matches the original joinery of the house. Given the open plan of the dwelling, the kitchen is finely detailed so that it appears as a 'joinery' piece rather than as a traditional kitchen. The circular motifs of the original dwelling are replicated in the fluid cabinet forms and the choice of light fittings and flooring.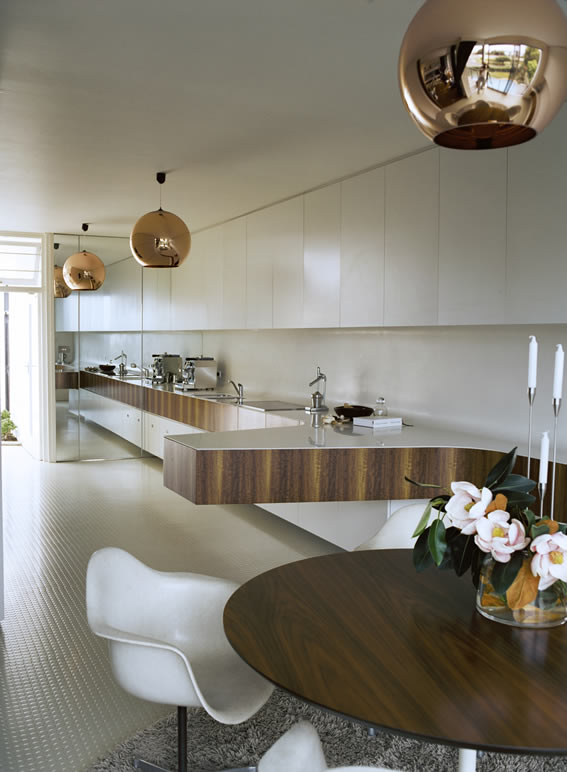 Photographer: Chris Court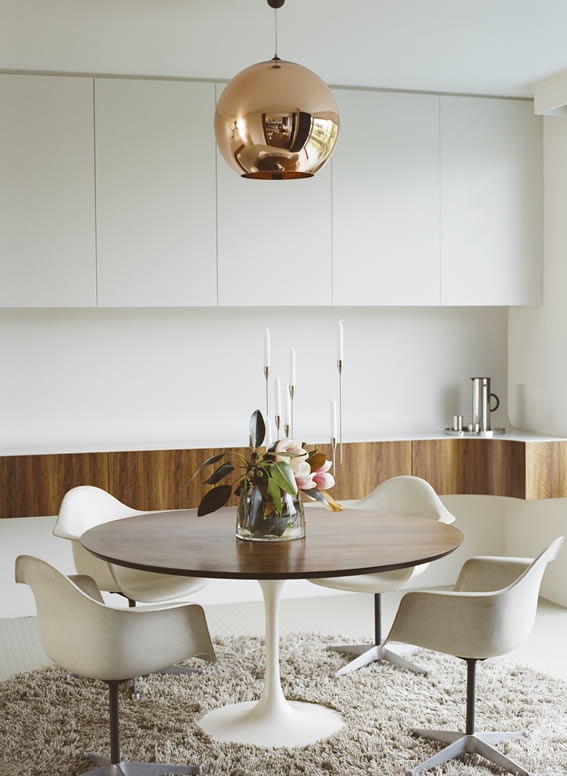 Photographer: Chris Court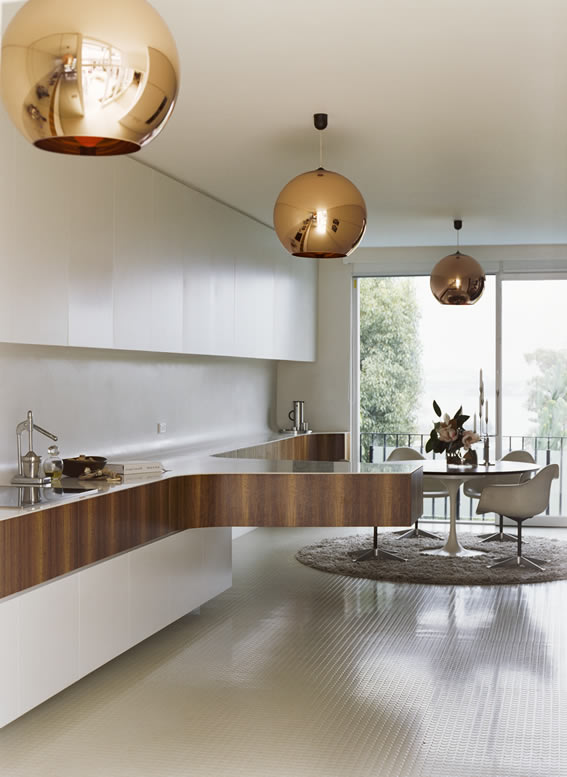 Photographer: Chris Court
DATE:
Completed 2008
PHOTOGRAPHER:
Chris Court


PUBLICATIONS:
"Palm Springs,"
Vogue (Australia), May/June 2008, 186 "Circular Motion,"
Vogue (Australia), March/April 2008, 180-208 Stephen Crafti, 21st Century Kitchens,
(Melbourne: The Images Publishing Group Pty Ltd, 2010), 42-45


FURNITURE:
DEDECE
Dining Table - Knoll Studio, Eero Saarinen, Saarinen Dining Table;
Lights - Tom Dixon 'Copper Shade'
Living Edge
Dining Chairs - Herman Miller, Charles and Ray Eames, Plastic Armchair